Ethara

Ethara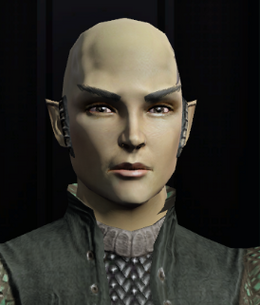 Military Rank:
Lieutenant
Profession(s):
Mission giver
Lieutenant Ethara is a Romulan who can be found at the Hwael Ruins on New Romulus.
She has been nominally assigned to the security detail of the archaeologists working at the ruins, but has become fascinated by the work being done there over time.
"Hwael Ruins": The Player aids Romulan science teams by placing scanners, collecting artifacts and archeological data, and providing security against Tholian ground forces.
"Lending a Hand": The player's faction contact, either Vice Admiral Valoth or General K'vera, directs them to visit the various project leaders throughout the New Romulus Adventure Zone, including Lieutenant Ethara.
"Blood of Ancients": The player helps Ethara secure the Hwael Ruins during a Herald invasion. After clearing the immediate area around the base camp, she refers the player to Subcommander Xiolan, who accompanies them to the Underground Ruins.