Earhart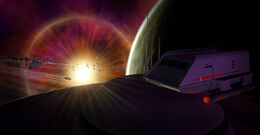 Earhart is a Starfleet Class F Shuttle assigned to Deep Space K-13.
"Tales from K13 #1": Chief Engineer Sheldon attempts to remotely take control of the Earhart, which Klingon crew members had taken to destroy an asteroid which is on a collision course with the station - and themselves with it - if necessary. Sheldon is stopped by Reeve and two other engineers, and is transferred to the brig.
"Tales from K13 Part 2": Aboard the Earhart, the Klingon prisoners, led by Captain B'ram, prepare to land on the asteroid and plant explosive charges. B'ram tells his fellow Klingons that he intends to keep one of the charges for himself, and use it to seize control of K-13, killing the Starfleet occupants if necessary. Commander Krom privately disagrees with this course of action, believing that even if they managed to take the station, it would be no match for a Federation starship, or the Ferengi if they decided to return. With the assistance of Lieutenant Varss, Krom accelerates the planting of the charges and returns to the shuttle with his team; Captain B'ram is killed in the explosion. En route back to the station, they lose control of the shuttle, but are able to dock with the station.
The shuttle is named for

Amelia Earhart

, a famous Human pilot.
The image provided on the official Star Trek Online web site gives the Earhart a U.S.S. prefix, which is unconventional for a shuttlecraft.