Dyson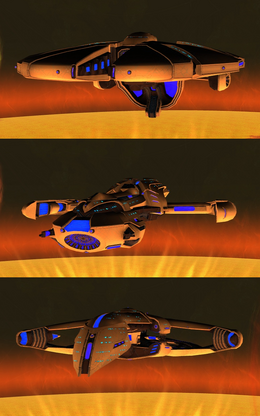 For the similarly-named Nova-class vessel, see U.S.S. Freeman Dyson.
The Dyson is a starship designed by Dyson Joint Command in 2409 using reverse-engineered Solanae technology. The vessel was specifically designed to withstand the harsh conditions near the star at the center of the Solanae Dyson Sphere. Its Class and Registry can vary, depending on the player's faction.
Captain: Unnamed Human commanding officer (deceased)
Commander Velez: Human science officer
Lieutenant Heinakamp: Human science officer
Ensign Drennen: Human tactical officer
Captain: Unnamed Klingon commanding officer (deceased)
Commander Brunha: Klingon science officer
Lieutenant Votesh: Gorn science officer
Warrior Vokraz: Klingon tactical officer
Commander: Unnamed Romulan commanding officer (deceased)
Subcommander Marzev: Reman science officer
Lieutenant Kowet: Romulan science officer
Ensign Darus: Romulan tactical officer
"A Step Between Stars": Admiral Tuvok and Doctor Eric Cooper use the Dyson to infiltrate an abandoned space station near the center of the Solanae Dyson Sphere. This being its first mission, a number of unexpected systems failures forced the Dyson to retreat to a safer distance from the star. When the Voth attack the away team, the Dyson's captain is killed in the battle. The vessel returns to rescue the away team before the station is destroyed, and the player takes temporary command during the third act.