Dewan arthropod

Dewan arthropod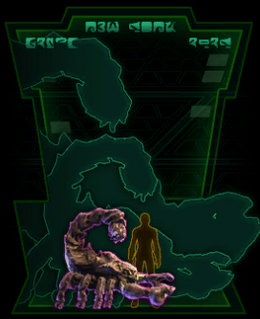 Dewan Arthropods are scorpion-like creatures found in the Vastam Peaks on New Romulus and the desert of Nimbus III.
The Dewan Arthropods have extremely powerful tails capable of smashing through the shells of most creatures after several bashings. Their pincers, curiously enough, are much stronger than their tail. We suspect that they used their pincers to hold down their prey and then used their tail to pulverize them.
Their shells are fairly hard due to the thousands of years of radiation on the planet. They prefer not to actively hunt larger animals and will instead use their pincers to ensnare smaller prey. They are primarily found in higher elevations.
---