Defiler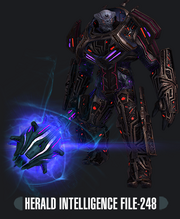 The Herald Defiler is the ground commander for the Iconian Heralds.
Tips for Battling Defilers
[
edit
|
edit source
]
Defilers attack with powerful melee strikes at melee range, while attacking with their Herald Antiproton Beam projector for ranged attacks. They can use a powerful AoE melee attack centered close to themselves at melee range, and can reconstruct fallen Constructs. It is advisable to keep your distance, and to try to avoid their being near Herald Constructs when possible.