As part of the Unified Community Platform project, your wiki will be migrated to the new platform in the next few weeks. Read more here.
Danna Brott

Danna Brott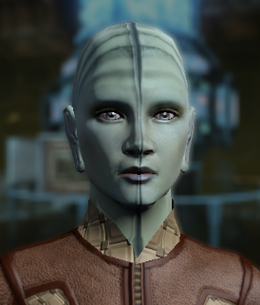 Profession(s):
Information giver
Trader
The daughter of a former Starfleet officer, Captain Danna Brott is the Bolian Captain of the transport ship S.S. Azura. When her ship is destroyed, she goes on to command the S.S. Azura II and acts as a merchant the player can summon in sector space via the Azura Personal Comm Code item.
"Stranded in Space": Brott and her crew are attacked by Orions. The player must rescue the crew before the ship is destroyed by a warp core breach. Brott is the last to leave the ship.