Daniel Stahl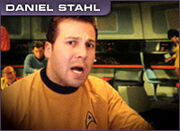 Daniel Stahl aka dstahl is the Executive Producer of Star Trek Online, and has also worked as a senior producer at Cryptic Studios. Daniel is very active in the Star Trek Online player base by players' questions in the monthly Ask Cryptic blog, and frequently commenting on posts in the official forums.
Daniel has conducted many interviews, such as this one at Massively.
On September 20, 2011 Stahl announced that he would be stepping down as Executive Producer at the end of the month. Cryptic's Chief Technical Officer Stephen D'Angelo would be serving as Interim Executive Producer beginning October 2011. Dan returned to Cryptic two months later in December 2011, becoming a senior producer in charge of the Foundry. On February 13, 2012, Stahl returned as Executive Producer of Star Trek Online, but finally left the team to work on a secret new Cryptic project on January 14, 2014. Stahl has since left Cryptic in April 2016.
Producer (Prelaunch - July 2010)
Executive Producer (July 2010 - September 2011, February 2012 - April 2016)
Senior Producer (December 2011 - February 2012)