Dacentrus-Class Exosuit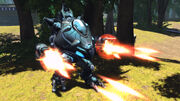 The Voth Dacentrus-Class Exosuit is the ground captain level spawn for the Voth ground forces. Alike the other exosuits, it is a mechanized armor used by Voth troops, usually in the Voth Battlezone.
Voth Antiproton Attacks, including some that create molten ground patches under the target
Transphasic-Chroniton Mortars (used when the Ceratopsid Siege Shield is engaged)
Ceratopsid Siege Shield that reflects energy damage back at attackers
EMP Pulse
"Secure Voth Points": Commander Arnold sends the player into the Battlezone to capture points in the City, Park or Outskirts.
"Defeat Voth in the Battlezone": Commander Arnold asks the player to assist with weakening Voth forces.
"Revelations": In 2410, the player battles scouting elements of a Voth battle group, but then allies with the Voth in defense of the Turei homeworld against the Vaadwaur.