D'Kyr Science Vessel (Mob)
For the playable ship, see D'Kyr Science Vessel.

D'Kyr Science Vessel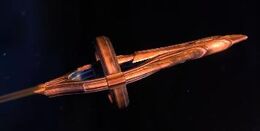 The D'Kyr-class Science Vessel is a science vessel manufactured by the Vulcans and used by Starfleet. This design has been in continual use since the 22nd century and has seen use as a combat cruiser, a planetary defense ship, an exploration vessel and a rescue ship.
It has an auxiliary craft, the Tal'Kyr Support Craft, that can be launched to heal shields and hull to the vessel and allies, as well as attacking targets of opportunity.