Crown System

Crown System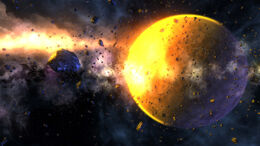 The Crown System is a system located in the Algira Sector of the Alpha Quadrant.
Crown I, II and III are D-Class planetoids that orbit the much larger, M-Class Crown IV which in turn orbits a Class-F white star. Crown IV was used as a prison planet by the Cardassian Union for more than 70 years, until the detainment camps were dismantled at the end of the Dominion War.
The planet is popular among those in the salvage trade, and abandoned Cardassian technology or even hulks of starships can be found on the surface.