Craig Zinkievich
This article or section is a
stub
.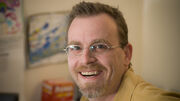 Craig Zinkievich aka Zinc is an American game developer and former Executive Producer of Star Trek Online. After seven years with Cryptic Studios, Craig resigned in July 2010.
During his tenure as Executive Producer, Craig from time to time posted a 'State of the Game' address to inform the community about recent and upcoming changes. Craig was interviewed by STOwiki, the transcript of which can be seen here.
On April 11th, 2011, Cryptic Studios announced that Craig had returned and had taken the position of Chief Operating Officer. [1]