Ch'gren

Ch'gren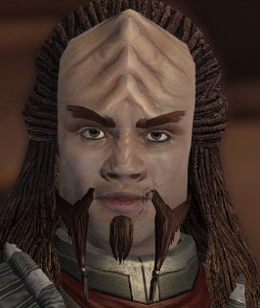 Profession(s):
Information giver
Engineer
Bridge officer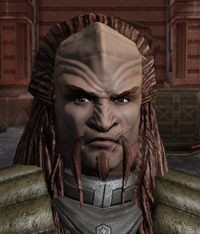 Ch'gren is a Klingon maintenance engineer who works at the Exchange in the First City. He is Lieutenant Doran's par'Mach'kai.
"Duties of Command": The player tracks down Ch'gren at the Exchange to notify him of Doran's death. The player finds him knocked down after being attacked by Nausicaan smugglers led by Majorog, who wants to rob the Exchange. After Majorog has been defeated, Ch'gren asks to join the player's crew in order to restore honor to his mate's death.
"Afterlife": The player encounters Doran onboard the Barge of the Dead and convinces her to help the player storm the gates of Gre'thor. Doran briefly mentions Ch'gren, even if he's in the away team.
In the mission "The Renegade's Regret", it is possible to see an unnamed Klingon NPC bearing a striking resemblance to Ch'gren walking on the Promenade outside the security office on Deep Space 9.
Ch'gren's model was revamped with Season Twenty: House Divided as part of the Year of Klingon updates.

Even if you change Ch'gren's appearance after the mission, Ch'gren is still the one talking and not your custom bridge officer.