Calendar event
You might also be looking for "event-type group missions" accessed via the PvE queue.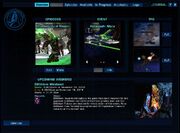 Calendar events are windows of opportunity during which you either gain discounts or bonuses when completing specific tasks or gain access to certain content (also called "gated content").
Weekend events are announced by Cryptic Studios several days in advance and usually span 4 days every other weekend or so. Although they are recurring, there is no pre-defined order.
Event
Description
Duration

Bonus Dilithium Weekend

Earn bonus Dilithium Ore by playing content throughout the game:
4 days

Bonus Marks Weekend

During the event, content that provides Marks (Fleet or Reputation) rewards a 50% (1.5x) bonus above normal amounts – this bonus is available for all content that rewards Marks.
4 days

Bonus XP Weekend

During the event, content that provides skill points and expertise will reward a 100% (2x) Bonus above normal amounts – this bonus will be available for all content that rewards skill points and expertise.
4 days

Item Upgrade Weekend

Earn 100% additional Technology Points when applying Upgrade Tech to all items this weekend.
4 days

Research and Development Weekend

4 days

Junior Officer Appreciation Weekend

50% increase in all Commendation XP earned by completion of Duty Officer assignments
Free special Purple quality duty officer with a unique active roster power by speaking with your duty officer contact: Exocomp and Reman
C-Store purchased Duty officer packs opened during the event will each have a free additional Green quality or better duty officer inside
"Academy Event" will be available

4 days

Bonus Progress Token Weekend

Playing the current Featured TFO during this weekend will earn you 100 Coupon Progress Tokens per day, instead of 50. This allows you to eventually claim the 100% Discount Coupon: Tier 6 Ship.
4 days

Admiralty Bonus Days

Earn 50% more Campaign XP on all Admiralty assignments this weekend. Additionally, Tour of Duty Assignments claimed during this event grant Bonus Rewards!
7 days
See also: Special Event.
Participating in these events will earn progress toward Featured-TFO reward, 50.000 Dilithium Ore and an Event Campaign reward.
Holiday events may span several days to weeks, temporarily making available special content and associated reward bonuses.
---
Events in Star Trek Online
Event
Occurrences
Activities
Currencies & Vouchers
Main Vendor
Key Reward
Notes
Anniversary Event
January-
February
"Omega Molecule Stabilization"
"Party Patrol"
Anniversary Prize Voucher
Reputation Tab
T6 Starship
2011, 2012, 2013,
2014, 2015, 2016,
2017 PC / Console,
2018, 2019, 2020
First Contact Day
April
"First Contact Day Re-Enactment"
Zefram Cochrane Memorial Hologram
Reputation Tab
Various
"Day of Honor"
"Republic Day"
Lohlunat Festival
June-
July
"Making Waves"
"Risa Biathlon"
"Castles in the Sand"
"Sun, Sand, and Scavenging"
"Dance Party!"
"Horga'hn Hunt"
Lohlunat Favor
Lohlunat Prize Voucher
Risian Vendor
T6 Starship
Risa
Hearts and Minds
Halloween &
Friday the 13th
"Hearts and Minds"
None
None
Duty Officer
Q's Winter Wonderland
December-
January
"Tide of Ice"
"Pie Eating"
"The Kramp'Ihri"
"Cones of Conduct"
"The Fast and The Flurrious"
"Klingon Ice Fishing"
Winter Prize Voucher
Holiday Collectibles
Holiday Item Vendor
T6 Starship
Q
Event
Description
PC dates
Console dates
Delta Recruitment
Players could create a new character and become a Delta Recruit, gaining new personal and account-wide rewards.

April 2 - May 21, 2015
April 19 - May 17, 2018

Temporal Agent Recruitment
Players could create a TOS Federation character and become a Temporal Agent, gaining new personal and account-wide rewards.

February 14 - April 3, 2017

Gamma Recruitment
Players could create a new Jem'Hadar character and become a Gamma Recruit, gaining new personal and account-wide rewards.

June 5 - July 18, 2018
October 24 - November 15, 2019

July 24 - August 28, 2018
November 12 - 28, 2019
Event
Description
Duration
Zen charge bonus
During the event, Captains will earn an extra 15% -25% bonus on purchased ZEN when you charge through Direct Credit Card, PayPal, Skrill, BoaCompra, Xsolla, Paysafecard or Steam.
4 days
Zen Store discount
25% / 30% on Everything in the Zen Store! • 20% / 25% / 30% Ship Sale! • 15% / 20% / 30% Key Sale! • 20% / 30% Services Sale! •
20% / 30% off Starter Packs and Ship Bundles! • 20% off all Duty Officer Packs! • 20% on Fleet Modules Sale! • Access the Key Ring Bundle! • T6 Starship Coupon Gift! • 20% / 25% / 30% R&D Packs Sale! • 20% Costume and Boost Sale! • 30% off Costumes Sale! • 30% Duty Officer and Personnel Sale!
1-6 days
Lobi store discount
20% / 30% Lobi Store Sale! • 20% off Ships and Shuttles! • 20% off Ships and Pets!
6 days
Lifetime Subscription discount
33% / 50% discount ($299.99 - $100 = $199.99, $299,99 - $150 = $149.99)
30 days