C.S.S. Steadfast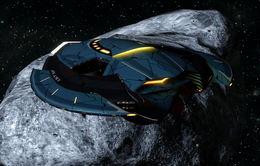 The C.S.S. Steadfast is a Tzenkethi Shuk-din Frigate under the command of Captain Neth Parr.
"The Renegade's Regret": Now being held in protective custody at Deep Space 9, Neth Parr, having renounced her rank, tells the player and Captain La Forge of the circumstances leading to her defection. These include her first mission as captain of the Steadfast, during which she was ordered to eradicate the Drantzuli presence in the Eohk System, destroying the Eohki people with a protomatter bomb; a mission on Draconis III, during which she was ordered to kill not only the inhabitants of the planet, but members of her own crew who had been sealed inside a temple; and a mission to Atosee Prime, during which Admiral Aarn Tzen-Tarrak elected to eliminate the planet's population, despite the fact that they had relocated all of the Drantzuli eggs to the planet's moon.
"Home": Having resumed command of the Steadfast, Neth Parr, along with a small Tzenkethi task force, arrive at Empersa to defend it against the Hur'q. Later, on DS9, she thanks the player for their efforts during the Tzenkethi crusade, and says that she will help make amends for crimes committed during said campaign.
"The Redemption of the Steadfast": In a flashback, Commander Neth Parr is ordered to intercept the C.S.S. Steadfast, captained by Tzen-Crinnu, who has abandoned the mission to purge systems of Drantzuli and is approaching Federation space. Neth Parr's vessel attacks the Steadfast, killing its crew with a protomatter torpedo. Neth Parr claims the Steadfast as her own.
The Steadfast can also make use of [Engine Battery] and [Weapons Battery].