Breen Observer

Breen Observer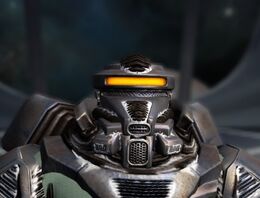 Profession(s):
Information giver
The Breen Observer is a Breen found at New Khitomer in 2769.
"Time and Tide": The Breen Observer is one of the representatives to the signing of the Temporal Accords. If the player speaks to them in the main hall, the Breen Observer claims that 'Time travel is a coward's weapon' and the Breen fight their battles in the present.
"Diplomatic Fallout" (Mentioned): Commanders Drij and Nereda mention that the Breen Ambassador and the Federation Ambassador to Qo'nos wagered as to which of them could defeat the most Krenim during the attack on the Temporal Accords. The outcome of the wager is never stated.
Despite his single pip, the Breen Observer has the appearance of a Breen Thot.
While the game refers to the character as 'Breen Observer', "Diplomatic Fallout" refers to them as the 'Breen Ambassador'. Because the Breen Observer is in the same room as the Federation Ambassador during the 'Rescue Ambassadors' objective, it is likely that the Breen Ambassador is meant to be the same character.