Borg Battlefield

Borg Battlefield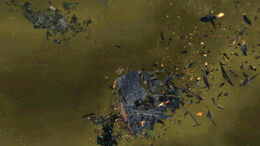 The Borg Battlefield (aka The Battlefield) is a Borg debris field located in the Syllerran Sector.
Long-range sensors are detecting large amounts of debris in this space. Starship captains are advised to use caution when traveling through the region.
It is implied in later missions that the Vaadwaur Supremacy was likely responsible for the destruction of the Borg fleet.