Bo'roth

Bo'roth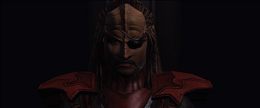 Profession(s):
First Officer
Commander Bo'roth is the Klingon First Officer aboard the I.K.S. Bortasqu'.
As first officer, Bo'roth faithfully serves as advisor to Captain Koren, despite being one stab away from command of the Imperial flagship. Although he was not born into a Great House, he is proud of being a commoner, noting that many great Klingon heroes were also common stock.
Bo'roth was born into a common family on Qo'noS.
He joined the Klingon Academy at the same time as Koren, where they bonded over similar views of battle and honor; she became Bo'roth's first friend from a Great House.
Bo'roth has been at Koren's side since graduating from the Academy.