Bio-Engineered Viriosaurus Rex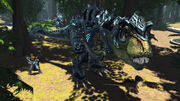 The Bio-Engineered Viriosaurus Rex is a boss for the Voth ground forces. It is the largest dinosaur they bred for combat, covered with cybernetically implanted armor with mounted weapons.
Voth Antiproton beams

Two larger turrets are mounted on the lateral sides of the head armor, firing a thick beam in a narrow forward arc where V-Rex's head is directed.
Three smaller emitters are on the lateral sides of the body armor - mounted slightly above the area between the leg and arm. It fires in a wide arc on up to three targets, similar to some split-beam weapons.

Transphasic Chroniton Mortar

Mortars are fired from the points on the back armor covering the sacral region or slightly above, toward the head. When preparing to fire, V-Rex will stop moving and slightly lower its head in order to position the mortars.
Melee attacks. In preparation for the melee attack, V-Rex will raise one leg and stomp a target in front. It will also swing its tail to deal physical damage to larger area behind it.
Summons allied Dankanasaurs.
It also uses a piercing scream during the combat, but it is unknown if it deals any damage or debuffs.
Shields: 8,015
Health: 30,779
V-Rex in the Voth battlezone counts toward the "Defeat a Bio-Engineered Viriosaurus Rex" universal endeavor, and the "Defeat Captains (Ground)" personal endeavor.