Bellas

Bellas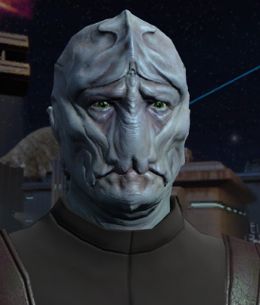 Military Rank:
Lieutenant
Lieutenant Bellas is a Turei male, and part of a group of Turei soldiers defending the Turei homeworld from a Vaadwaur invasion.
"Revelations": The player discovers a wounded Bellas on the surface of the Turei homeworld. After tending to his injuries, Bellas identifies the invaders as the Vaadwaur and places the blame on the crew of the U.S.S. Voyager for reviving them over three decades before. The player then aids Bellas in restoring the planetary defense grid and in repelling Vaadwaur ground forces until Voth reinforcements arrive.
"Takedown": Bellas represents the Turei in the Delta Alliance's assault on the Vaadwaur homeworld. During the battle, he reports that the Turei have secured access to underspace from the Vaadwaur System, preventing the Vaadwaur from bringing in reinforcements or retreating.