Bavar System

Bavar System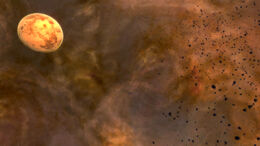 The Bavar System is a system located in the Arawath Sector of the Alpha Quadrant.
The Maquis used the vast asteroid fields in the Bavar system as a hiding place during their insurrection against the Cardassian Union.
In 2372,
Calvin Hudson
led a squadron of Maquis raiders in an attack on a Cardassian convoy. Six ships and more than 2,500 Cardassian soldiers were killed.
"Bavar System Patrol": The player is ordered to enter the Bavar system and destroy a number of True Way ships to send the organization a message.