As part of the Unified Community Platform project, your wiki will be migrated to the new platform in the next few weeks. Read more here.
Balaur Dreadnought
Balaur Dreadnought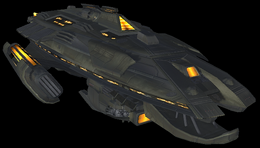 The Balaur Dreadnought is a powerful warship used by the Gorn Hegemony. Its armament is comparable to the Nausicaans' Ravager Dreadnought. As is the case with all dreadnoughts, Balaurs are extremely well shielded and require the strength of several ships to be overcome.
The Balaur Dreadnought has a compact, somewhat boxy shape like a truncated wedge. However, the ship loses height from the aft end to the front. The Balaur is green in color and three pairs of short fins are attached to its underside. The engines are situated at the aft end while the thin forward section consists entirely of a broad deflector dish. Six pairs of light bulges are evenly distributed on the Dreadnought's top, their yellow coloring matching the deflector dish's. Compared to other Gorn ships, the Balaur features much fewer accentuated curvatures.
| Level | Standard Difficulty | Advanced Difficulty | Elite Difficulty |
| --- | --- | --- | --- |
| 50 | 310,133 | - | - |
| 52 | 322,358 | - | - |