Bajoran Interceptor (Mob)
You may be looking for the playable version: Denorios-class Bajoran Interceptor.

Bajoran Interceptor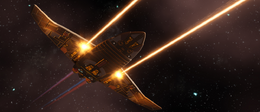 Bajoran Interceptors are escorts initially built exclusively in defense of the planet Bajor. Since Bajor joined the Federation, this style of vessel has been upgraded and are used in short-range exploration on both sides of the Wormhole, but are being phased out. Escorts are powerful warships, capable of dealing heavy damage in hit-and-run attacks. They are less durable than cruisers and science vessels, but compensate for this in maneuverability and stopping power.
| Level | Standard Difficulty | Advanced Difficulty | Elite Difficulty |
| --- | --- | --- | --- |
| 60 | 97,819 | - | - |