As part of the Unified Community Platform project, your wiki will be migrated to the new platform in the next few weeks. Read more here.
B'Elotja

B'Elotja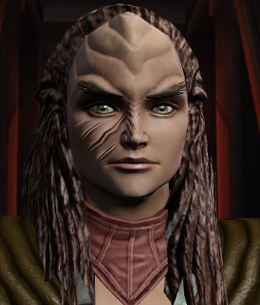 Military Rank:
Sparring Master
Profession(s):
Mission giver
Sparring Master
B'Elotja is a female Klingon warrior. She is the Sparring Master in the Warriors Hall of First City and is located at the sparring ring.
"First City": In order to prove your worth as a new ship commander, B'Elotja demands you to spar against other Warriors in the Warriors Hall.
B'Elotja received voicovers by an unknown voice actress on December 11, 2013.