B'Elem

B'Elem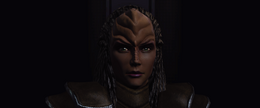 Military Rank:
Lieutenant
Profession(s):
Conn Officer
Lieutenant B'Elem is the Klingon Conn Officer aboard the I.K.S. Bortasqu'.
Lieutenant B'Elem serves the Bortasqu' as Conn Officer. She compares her duties to Lieutenant Commander Hark's duties as the difference between the bat'leth and mokbara, stating that while the tactical officer deals the killing blow, the conn officer avoids the enemies' attacks and draws them into traps.
B'Elem was raised on Ganalda Station, where she developed a longing to travel the stars.