Attendant (New Khitomer)

Attendant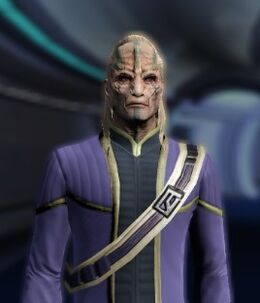 Profession(s):
Information giver
The Attendent is a Rigelian found at New Khitomer in 2769.
"Time and Tide": The Attendent greets the player when they arrive for the signing of the Temporal Accords. Upon recognising the player, he remarks that he wrote a paper about them in Classical History class at the Academy.
Despite being marked as Federation in the game, Attendent is most likely a member of the Galactic Union.
Attendent wears a blue diplomatic uniform with a Klingon sash. Whether this is due to the Klingons joining the Federation is currently unknown.