Arehbes Shockwave Frigate
This page is for the NPC starship. For the playable vessel, see Sphere Builder Arehbes Destroyer.

Arehbes Shockwave Frigate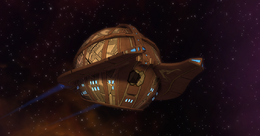 An improved version of the regular Arehbes Frigate, Arehbes class Shockwave Frigates come equipped with a Temporal Shockwave Device, a potent weapon that allows them to turn the tide in their favor. Depending on how serious the situation is, Sphere Builders will either deploy a squadron of standard frigates or this improved design.
| Level | Normal Difficulty | Advanced Difficulty | Elite Difficulty |
| --- | --- | --- | --- |
| 60 | 51 622 | 113 569 | 404 978 |