Anjan Carna
Timeline Change Imminent!

---

This article or section contains information that no longer applies to the current version of Star Trek Online. It is provided only for historical purposes.

Anjan Carna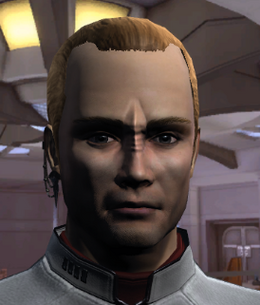 Profession(s):
Information giver
Captain Anjan Carna is a Bajoran Starfleet officer. He is captain of the U.S.S. Obsidian.
"Suspect": When telepathic members of the Obsidian's crew suddenly go mad and begin attacking their fellow officers, Franklin Drake escapes the ship in a Runabout and enlists the player's help. After he and the player administer a telepathic suppressor to many of the ship's crew, Drake admits to the player that he suspects Captain Anjan of being an Undine infiltrator. They confront Captain Anjan on the bridge, where he claims that Drake is the Undine, and that he is prepared to destroy the ship in order to stop him; Drake makes the same claim. After the player chooses a side, the entire mission is revealed to have been a Holodeck simulation intended to test the player's loyalty.
Contrary to traditional Bajoran naming conventions, Anjan Carna is referred to in-game as "Captain Carna," rather than "Captain Anjan."