Amie Frisch
Timeline Change Imminent!

---

This article contains information that no longer applies to the current version of Star Trek Online. It is provided only for historical purposes.

Amie Frisch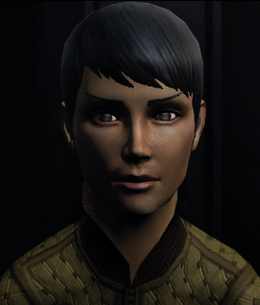 Profession(s):
Colonist
Information giver
Farmer
Amie Frisch is a Human civilian living in the Cardassian farming colony on Goralis III. She moved to the colony in approximately 2408.
"Seeds of Dissent": Frisch tells the player about the Goralis III colony and its prized crop, meya lilies. The lilies are extremely difficult to grow, and can be used to create a treatment for Yarim Fel syndrome.
"Seeds of Dissent" was removed with the revamp of the 'Cardassian Arc' and as such, Amie Frisch no longer appears in the game.