Alevant

Alevant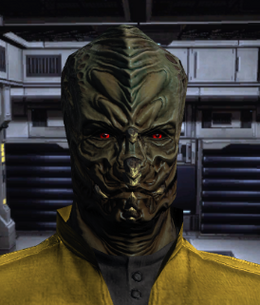 Alevant (Inmate 72604) is a male Lethean and Class IV prisoner of Federation maximum security detention center Facility 4028. The bank robber is serving a 28 year sentence with the possibility of parole.
Level
Standard Difficulty
Advanced Difficulty
Elite Difficulty
Shields
Health
Shields
Health
Shields
Health
49
-1
4,525
-
-
-
-
50
-1
4,608
-
-
-
-
He is the suspected culprit of eight attacks on financial officials in the Bolarus Sector.
Previously, Alevant was convicted for mind control and robbery on Capella IV. There, he had gained access codes to the topaline vaults from the mind of a Janus Mining manager via telepathy.
On Stardate 96302.4 (April 21, 2409), Alevant was apprehended on Lissepia where he used mind control and had attempted murder on a Central Bank of Lissepia official.
In 2409, he was sentenced to 28 years (ending in 2437). Because of his hostile telepathy, interaction relies on holographic interfaces only and Protocol Zeta-Eight is in effect.
His cell is situated in the Main Holding Area of Facility 4028.
"Facility 4028": Information about Inmate 72604 is accessible from the ISIS interface at the cell's door, which can be opened. During the prison riot, Alevant escapes to prison tract B and has to be subdued forcefully.