Ability: Transwarp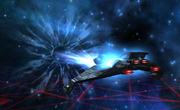 This is about the player ability from ranking up, for similar uses see below.

Transwarp is a method of traveling beyond traditional warp speeds at near-infinite velocity. It was heavily utilized by the Borg in the Delta Quadrant and allowed the U.S.S. Voyager to return home. Players have access to Transwarp throughout their character's career.
The Transwarp ability enables players to travel instantly back to Earth Spacedock or Qo'noS (depending on the player's faction) or to different locations from the galaxy map. This ability's base cooldown is 15 minutes, but can be reduced by various means; the cooldown timer only counts down while logged in, on a per-character basis.
This power has been moved to the upper-right corner of the default screen layout. To invoke the Transwarp options, click on the transwarp icon. Transwarp is distinct from Quantum Slipstream Drive.
In addition, the player is able to transwarp to the starting point of any episode by clicking the transwarp icon next to the mission name in their HUD's mission tracker. These transwarps are free and have no cooldown.
Profession: All
Locale: Space
Used by:
Target: Self
System: None
Ability Type: N/A
Activation: 4.0 seconds
Range: N/A
Shares cooldown with:
Starts cooldown on:
Modified by:

Skills
Stats
Duty Officers
Traits
Gear

Trained by:
Ability/User Rank

CD

Ability Effects
Rank I: All
15m

Targets Self
Transwarp to X
Note that all transwarp locations lead to the appropriate space map, never to a ground map.
By default a new character player in STO will have the transwarp ability enabled to a location in sector space close to their own homeworld system. For for the

Federation player, this ability will take you to the sector space just outside of Sol System, for the

Klingon Empire player it will take you to just outside of Qo'noS, and for the

Romulan Republic player, it will take you to New Romulus.

Dominion players will have 2 destinations available: Deep Space 9 system, and additionally sector space just outside of either Sol System or Qo'noS depending on their chosen allegiance.
Players who level up up their

Diplomacy /

Marauding commendation through duty officers assignments will get a bonus transwarp location for each rank , starting from rank 2.
Transwarp - Commendation-related locations
Icon
Name
Destination
Faction
Requirements : Ship ability/Commendation
Transwarp to Starbase K7
Sherman System
Diplomacy Rank II (Consul)
Transwarp to Romulan Space
Vendor Sector
Marauding Rank II (Privateer)
Transwarp to Starbase 39
Starbase 39 Sierra System
Diplomacy Rank III (Envoy)
Transwarp to Regulus Sector Block
Risa System
Marauding Rank III (Pirate)


Transwarp to Deep Space 9
Transwarp to Cardassian Space
Deep Space 9 System
Diplomacy Rank IV (Ambassador)
Marauding Rank IV (Marauder)
There are some Transwarp Locations that can be unlocked via the Fleet Advancement System. Players must be in a fleet with the relevant holding at the tier specified.
Transwarp - Fleet-related locations

| Icon | Name | Destination | Faction | Requirements : Fleet Progress |
| --- | --- | --- | --- | --- |
| | Transwarp to Fleet Starbase System | Fleet Starbase System | | The fleet must be tier 1 with the Science project Communications Array Tier I completed to unlock the transwarp. |
| | Transwarp to Fleet Solanae Dyson Sphere Spire | Fleet Spire System | | The Fleet Spire must be tier 1 with the Science project Construct Personal Transwarp Transporter finished |
| | Transwarp to Fleet Research Lab | Fleet Research Lab System | | The Fleet Research Lab must be tier 1 with the project Construct Personal Transwarp Transporter finished |
| | Transwarp to K-13 | Fleet Station K-13 System | | K-13 must be tier 1 with the project Construct Personal Transwarp Transporter finished |
| | Transwarp to Fleet Colony World | Fleet Colony World System | | Colony World must be tier 1 with the project Construct Personal Transwarp Transporter finished |
The Fleet Starbase holding has a Transwarp Conduit construction project that grants access to the following locations, though you must fly to the conduit to use it; the entries can't be accessed from your normal transwarp menu. These transwarps do not put your personal transwarps on cooldown. They also do not put you in the system proper, but rather just outside the system in their respective quadrants, excluding Defera.
There are some Transwarp Destinations that can be unlocked via the Reputation System:
The Excelsior class starship and its variants have a special ability to transwarp to different locations (except fleet) no matter what level the player is, what commendations are achieved, or whether they're in a fleet.
The Tier 3 Excelsior-class Advanced Heavy Cruiser has access to the following transwarp locations, all in the Beta Quadrant:
The Tier 5 and 6 variants of the Excelsior class have access to the above transwarp locations, as well the following:
The Advanced Heavy Cruiser and its variants could previously use a [Console - Universal - Transwarp Drive Coil] to travel to various sectors, however this device has since been replaced. On occasion, the engine will fail to make the jump. This was by design to mimic the events from Star Trek III: The Search for Spock when the transwarp drive on the USS Excelsior was disabled.
This article or section is in need of an update

---

List of exact transwarp locations

Please help out STO Wiki by adding the necessary changes!
The Tuffli Class Freighter and Suliban Cell Ship include a special Transwarp drive that lets those ships travel to Duty Officer nodes throughout the Alpha and Beta Quadrants. These are accessible when the player has one of those ships selected as current.
Travel
Ground
Risa Floater, Risa Powerboard, Run, Transporter
Sub-light
Full Impulse, Impulse Capacitance Cell, Impulse Engine (Impulse Engines), Impulse Expertise
Warp
Quantum Slipstream Drive, Sector Space Travel Speed, Warp Core, Warp speed
Transwarp
Borg Transwarp Hub, Transwarp, Transwarp Coil, Transwarp Conduit
Other
Bajoran wormhole, Iconian gateway, Sector space, Spore drive, Teleport, "Tour the Galaxy"